We all know that moving home is a stressful experience, but there are a whole host of things you can do to make the move a little easier. For instance, you could take time out to properly research your removals company to ensure you use the best one in your region. Alternatively, you could employ an expert packing service to free up time to concentrate or more important matters concerning your move.
Here, however, we'll be detailing just one in particular: how using self storage can benefit you during your move, whether domestic or commercial. Read on to find out more and about the attentive self storage services on offer here at Wardle & Keach International.
Increase Your Chances of a Sale
If you're struggling to sell your property prior to your move, your furniture could be to blame. Rooms that are full of furniture and other possessions appear crowded and cramped. Your property might look far larger if it has less of your belongings in it during a viewing, which is where self storage comes in.
Before you start taking viewings, you could move out some of your bulkier items and put them into storage. Your property will look bigger than it is and you'll increase your chances of a sale. Furthermore, moving day will have just got a whole lot easier, too!
Only the Essentials
By using a self storage facility, you can ensure that on the day of the move you'll only need to move the essential items and nothing else. This can make it easier on the day and speed up the whole process so you can get back to the important task of unpacking and settling in.
Items such as your DVD collection, books, paintings and hanging art, coffee table and other smaller articles can be packed up and sent to a storage facility well in advance of your move. You can then collect these items once you've unpacked the essential items, like your bed, settee, TV, kitchen utensils and so on.
For business moves, consider what items are superfluous to your daily functions and stick them in storage. If you can keep operating as a business right up until moving day without it, it isn't essential. Computers can be easily packed days or hours prior to the move, so don't worry about them until later.
It might also be worth considering leaving some of these inessential items in storage after you've completely unpacked. Cluttered homes are uncomfortable and untidy businesses can soon fall behind their rivals in terms of performance. Declutter your property or premises prior to your move and ensure your new place is never cluttered in the same way by continuing to use self storage!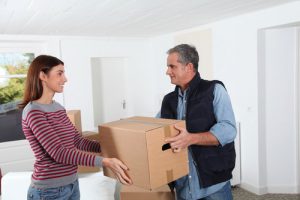 Lengthen the Packing Process, Lessen the Stress
Instead of having the runaround of packing all of your belongings in the last few days before your move, start early and send some of the boxes off to a self storage facility. Your belongings will be safe and secure and you won't have the stress of trying to pack them hurriedly, nor will you have towers of boxes hanging overhead in your home!
Breathing Space to Prepare Your New Home or Business
Boxes and boxes piled up around your new property will only serve to make things harder to tidy and organise or to decorate. Instead, by using a self storage facility you are free to decorate and renovate your new property without hindrance. Likewise, you can unpack your belongings in bitesize chunks that are easier to handle. Once a portion of your belongings are unpacked and tidied away, you can retrieve the next portion and continue. In this way, your move will never overwhelm you.
If you're planning on moving home or business, Wardle & Keach International offer a range of removals services designed to make your move as stress free and straightforward as possible. To discuss international removals and shipping the across the country and the world over, contact us today.